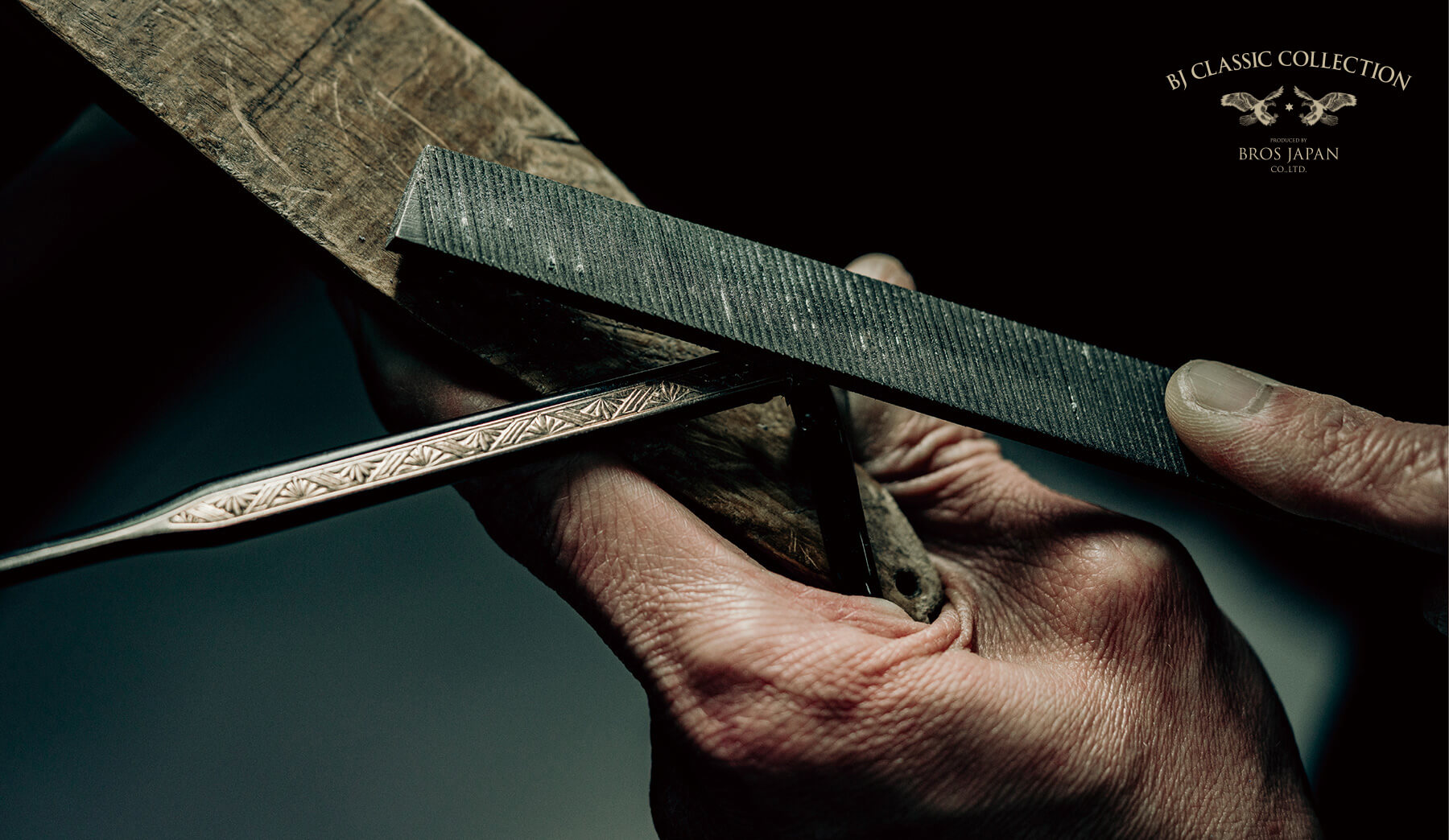 Toward an era things were
"works" of craftsmen
Achieving the aspect of one of a kind thing
by hand work of Sabae craftsmen
The skill and the spirit of Sabae eyewear craftsmen with history of over 100 years.
Every eyewear that has essence of manufacturing by hand work of Sabae craftsmen is
delicate and precise, but yet none of them are the same.
Emotionally exposed "Unevenness", that expresses the philosophy they have cultivated,
has sublimated things into the works.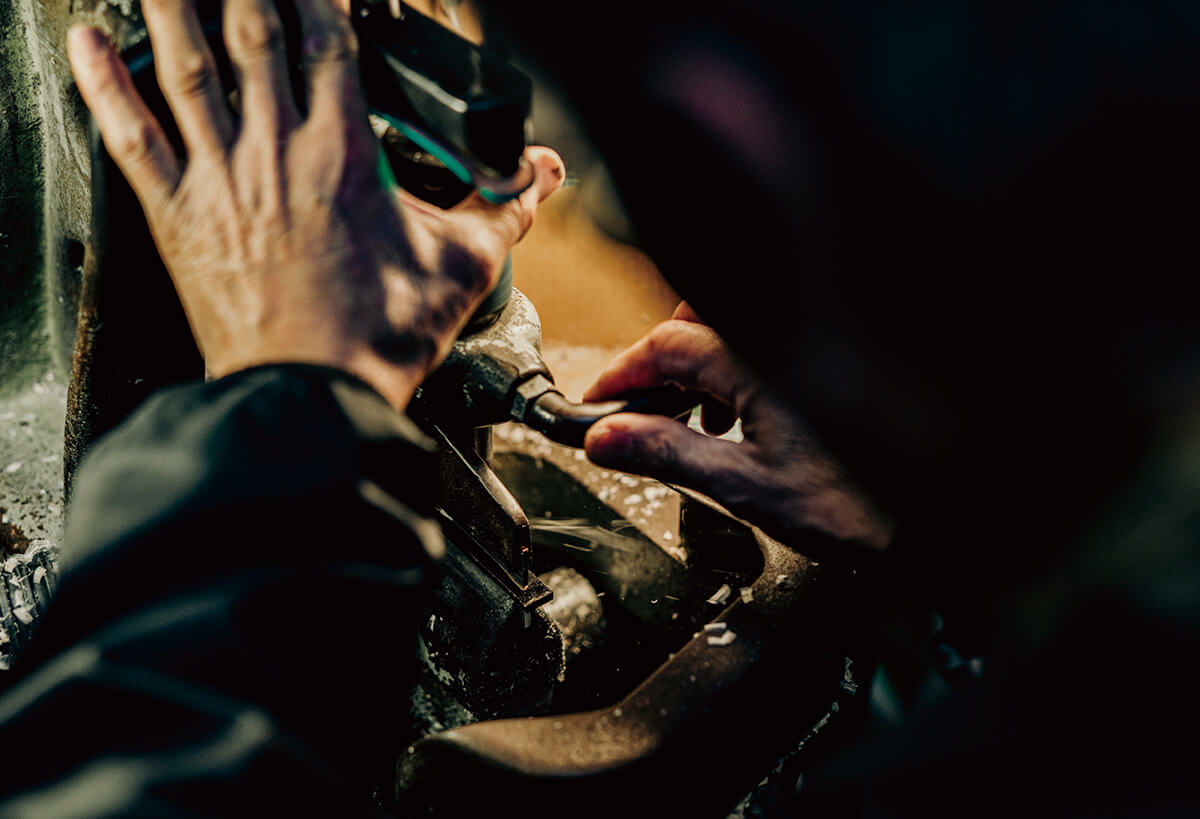 The metal core installed in the ear hook bar of eyewear, called the temple, serves not only for fitting, but also beautiful and delicate patterns were engraved on it in the past, and many of them were highly designed.
The engraved pattern delineated by advanced craft skill clearly emerged, enhancing the value of eyewear.
ShinbariCraftsmen called the temple crafting method that mainly features the metal core, that is sandwiched inside.
However, Shinbari that requires labor, time, and high skill, declined gradually, with the change to the generation that demands the productivity, and the number of skilled craftsmen decreased drastically.
Currently, there is the only one craftsman in Sabae, who continues to inherit Shinbari, that is disappearing from the world.
Life was beautifully and dynamically brought to Shinbari series by this craftman.
WORKFLOW
Hole engraving on plastic sheet
Creating foundation for sandwiching metal core
in plastic sheet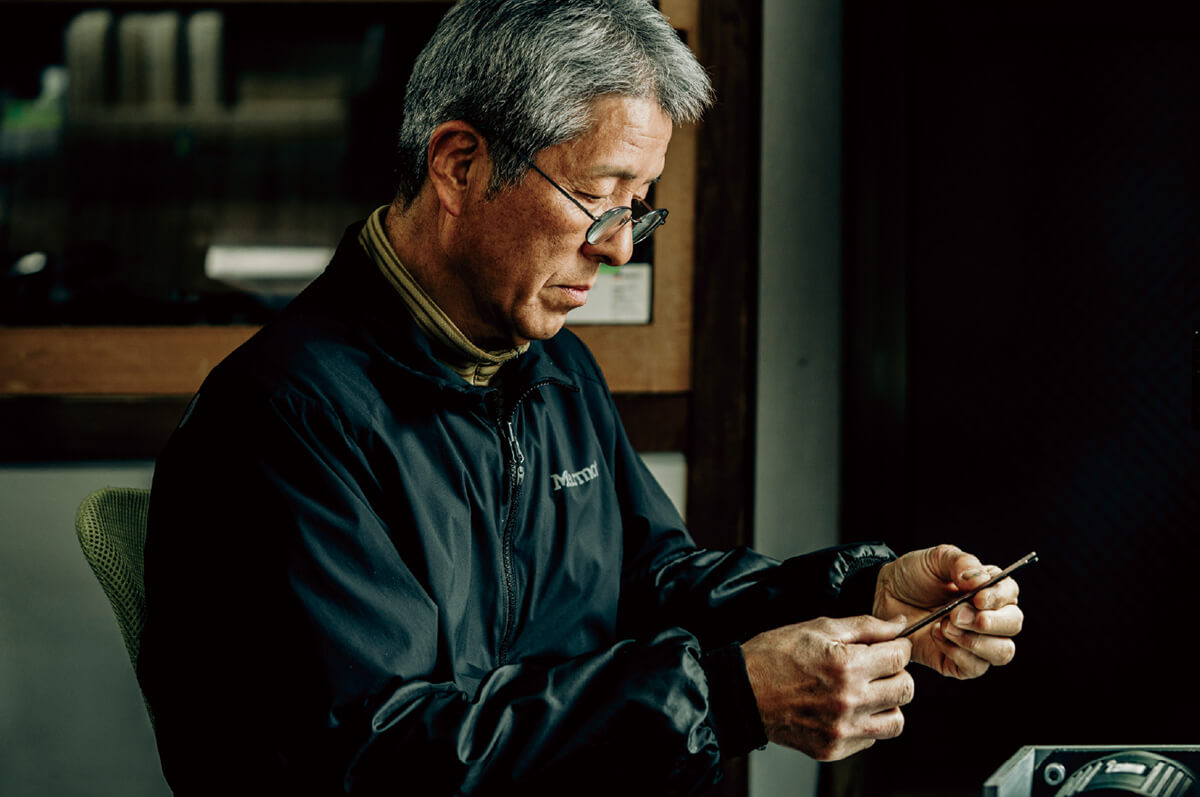 The groove hole is engraved on one side of the strip shaped plastic bar, matching the shape of metal core to set in. The plastic and the metal core are located precisely to fit each other.
Installing metal core
on engraved hole
and semi lamination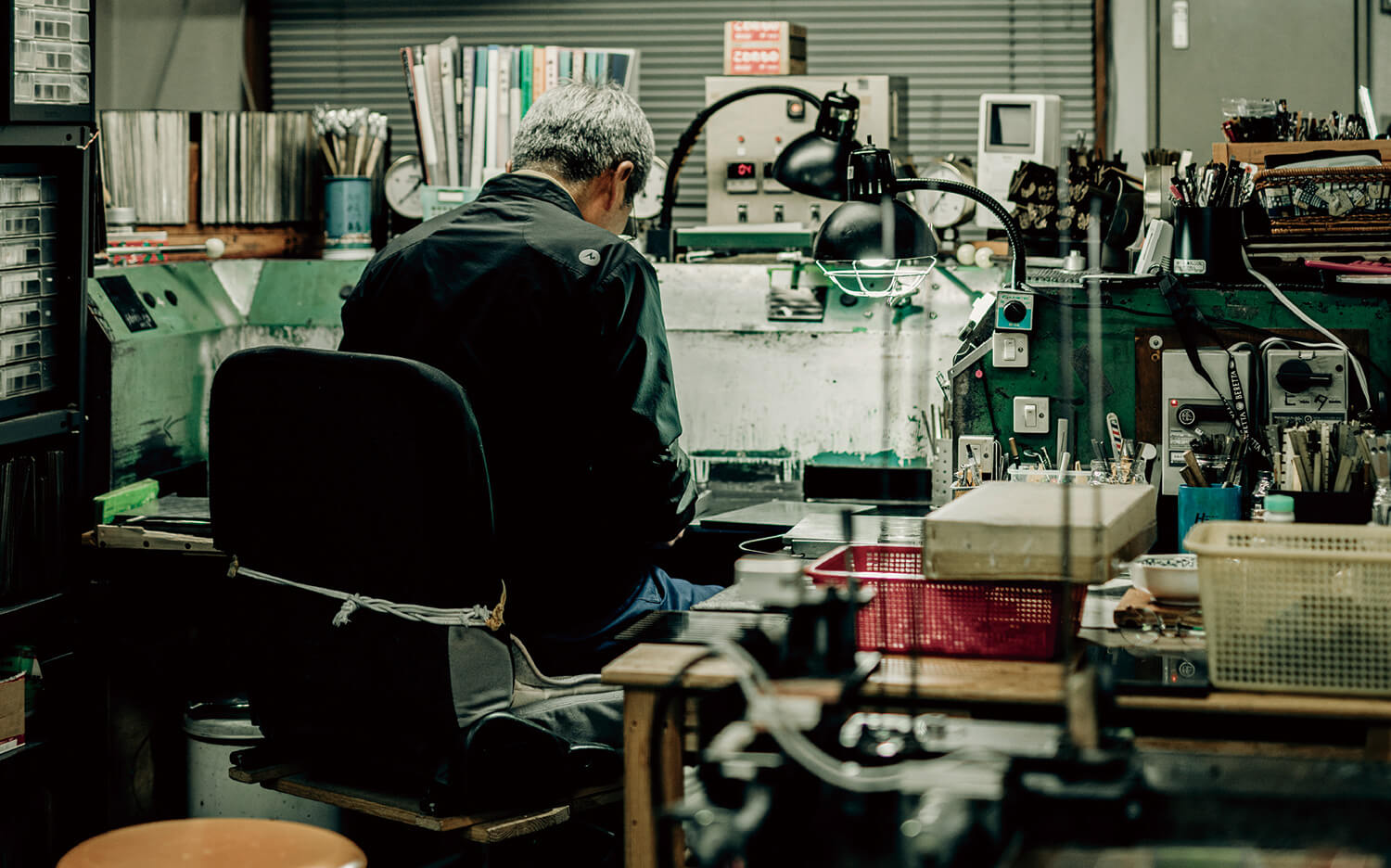 The metal core is installed on the hole side of the plastic bar, upon melting the surface slightly by solvent. Then clear plastic is layered on top, and the entire plastic bar is temporarily fastened with a clip.
Metal engraving core inspired
by American vintage design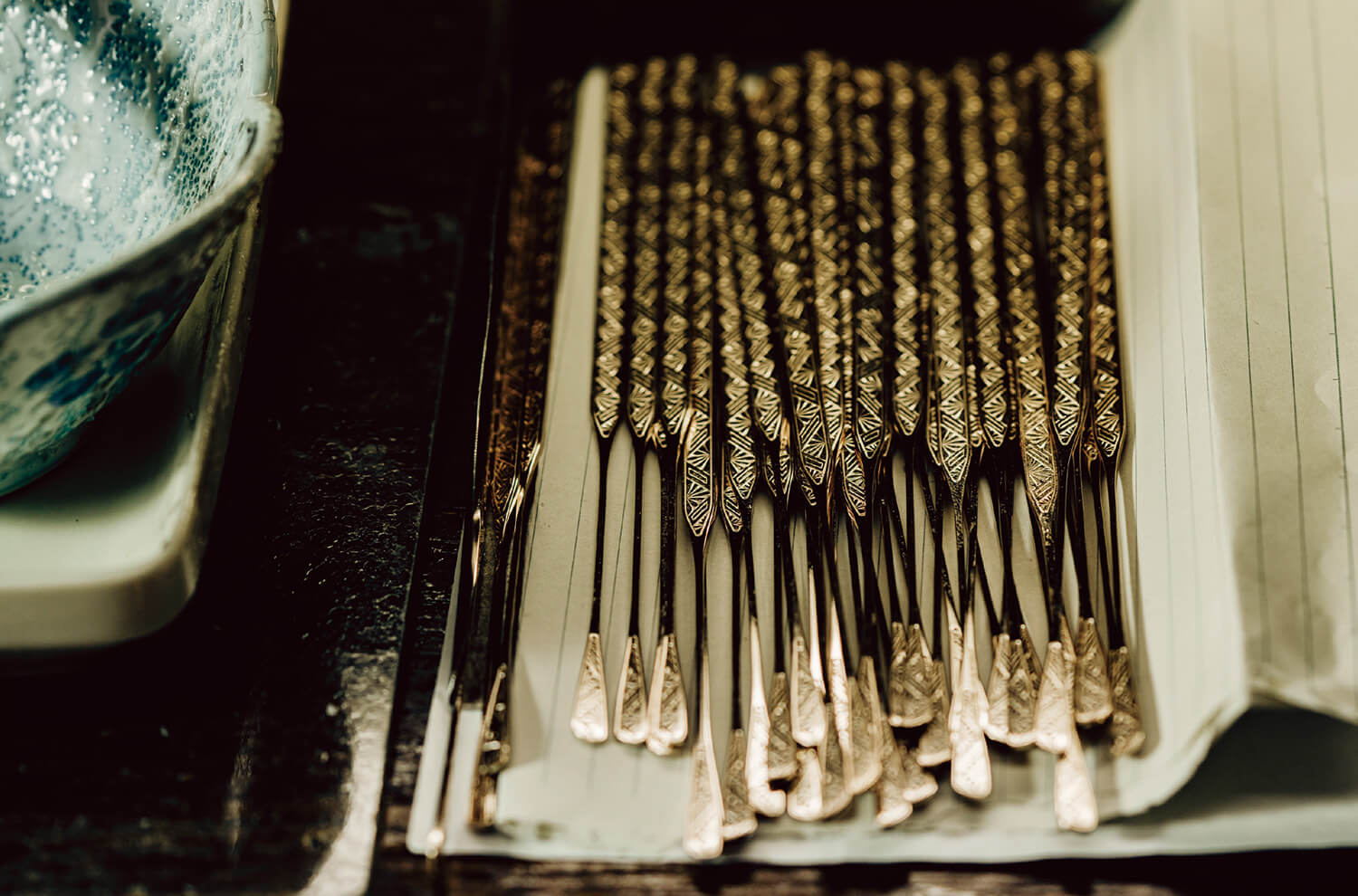 Engraving pattern design on the temple core combines the straight lines and the smart curves to give a geometric image. The luster of plastic and the sharp texture of metal combine delicately to enhance high quality vintage feel.
Setting temporarily
fastened plastic bar
with core in dedicated mold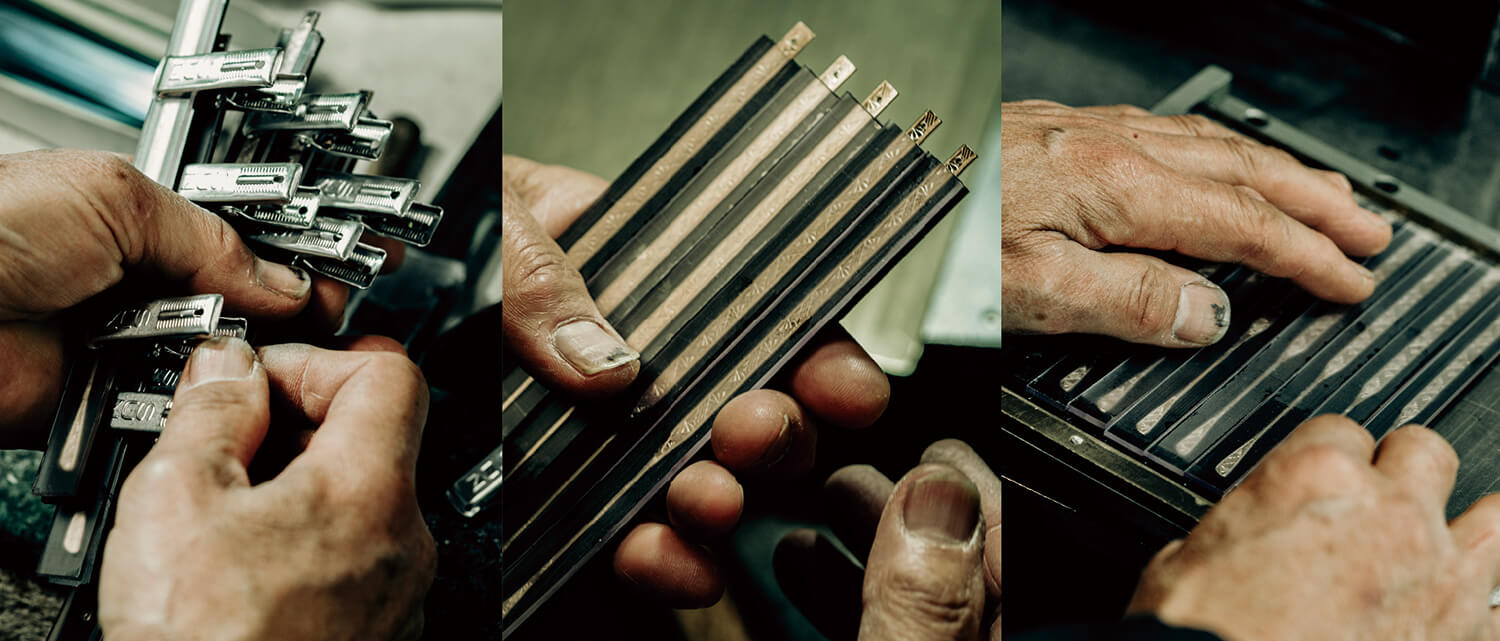 Visual check is done for piece by piece if solvent has infiltrated, neither peeled nor floated, and additional solvent is poured if necessary. Afterwards, the plastic bar is set in the dedicated mold for heat treatment.
Steel plate to prevent sticking
Inserting steel plate in between to prevent plastic bars
from sticking each other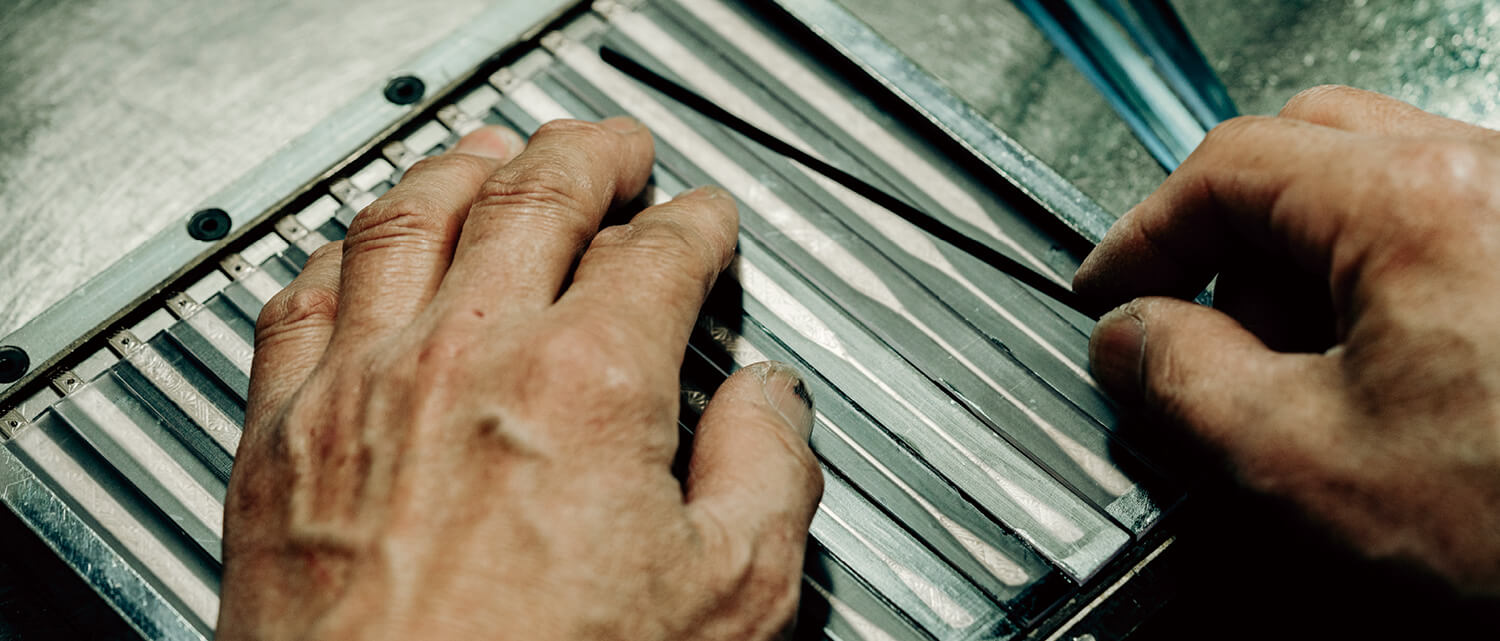 The steel plate is inserted between the plastic bars to avoid sticking each other caused by heat treatment. Longtime experience and knowledge lead him to execute this extra effort.
Heat treatment and cooling
Heating plastic bar set
in dedicated mold,
and cooling it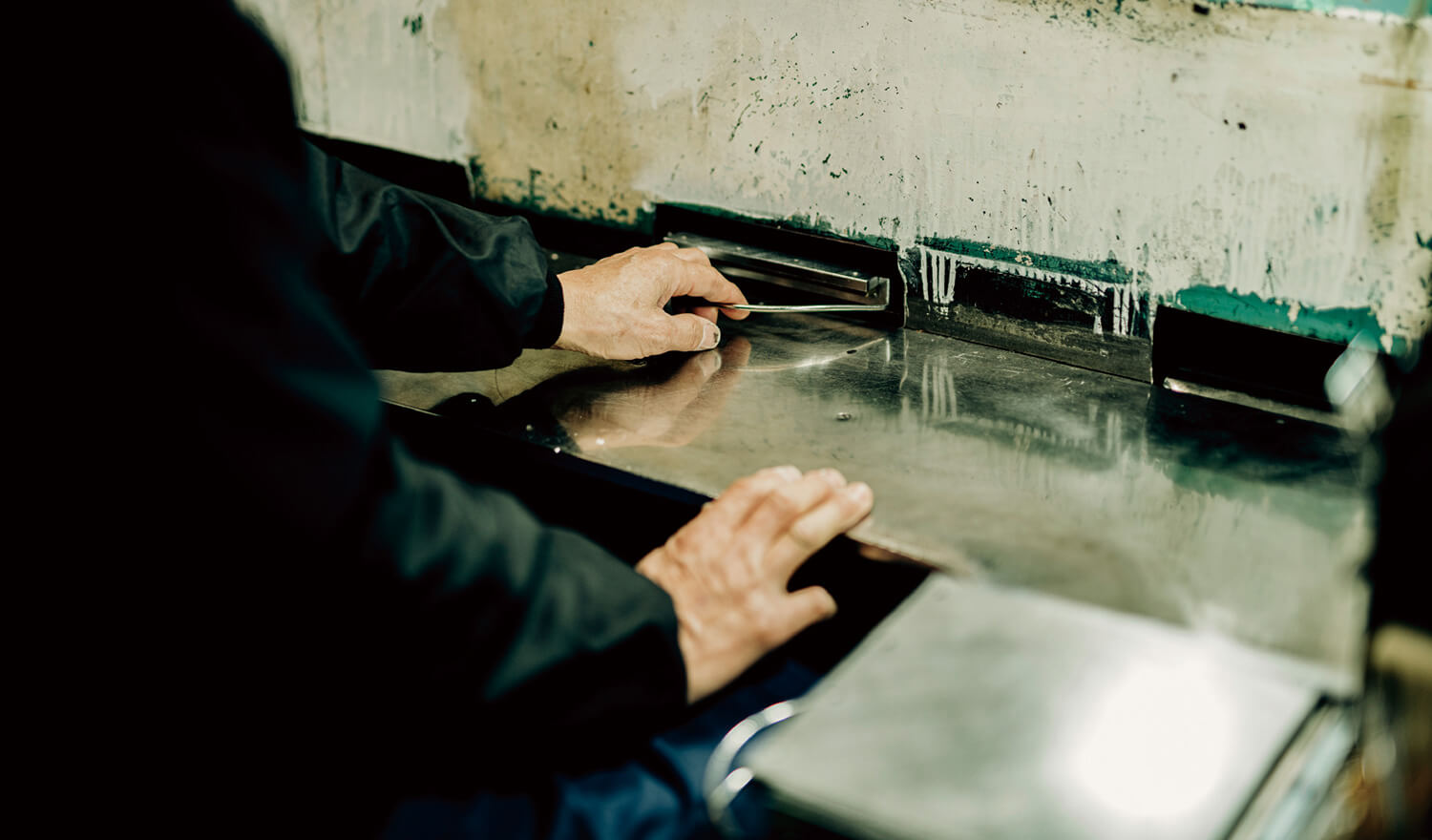 The metal core is embedded firmly into the plastic by repeated heat treatment and cooling. It is one of the most delicate and high skills that craftsman makes sure the metal core is not bent irregularly by pressing process. Since the condition of plastic material varies depending on color and production lot, craftsman maximizes his sense and intuition to adjust time, temperature and pressure.
Taking plastic bar
out of mold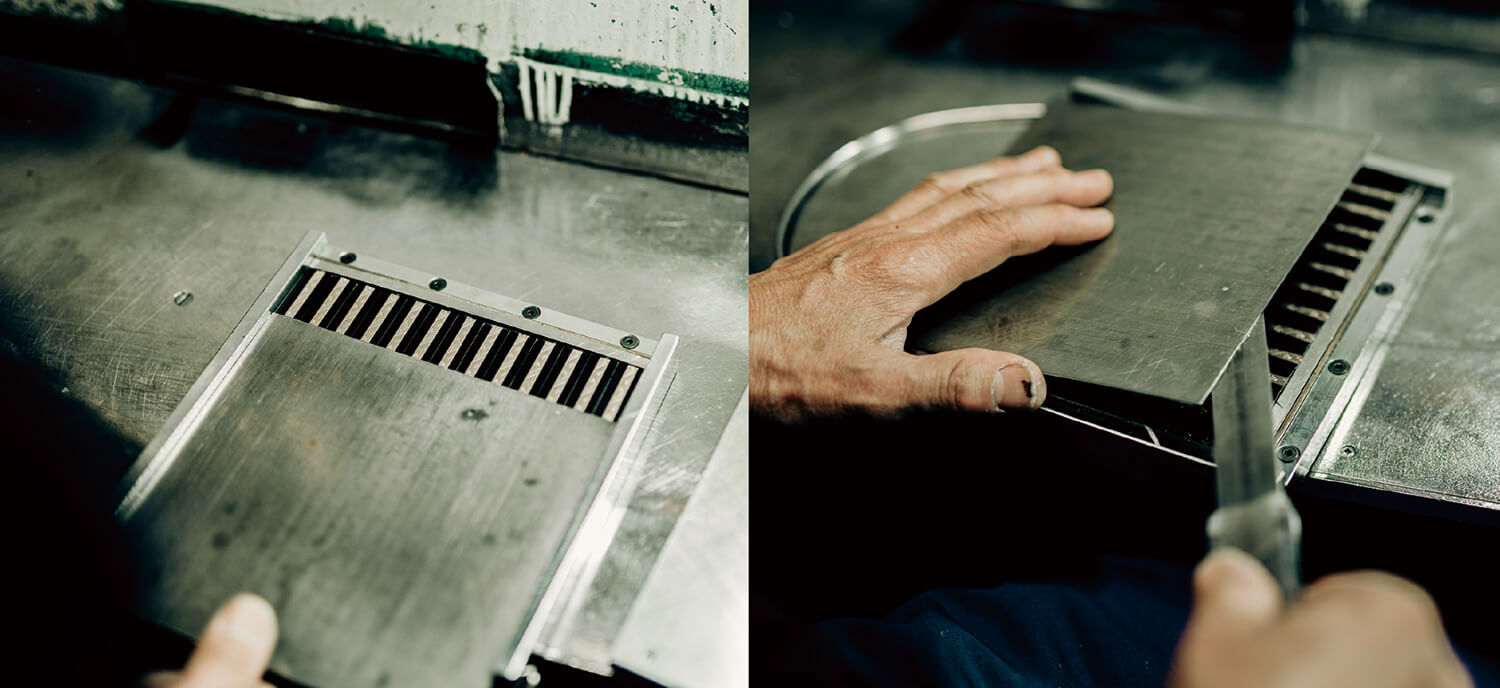 The lid of the mold is removed by the dedicated tool. Then the pressed plastic bar is taken out to be inspected carefully for every single detail, checking if there is no separation of the plastic, as well as the adhesion failure.
Checking by sight if there is
not bubble melded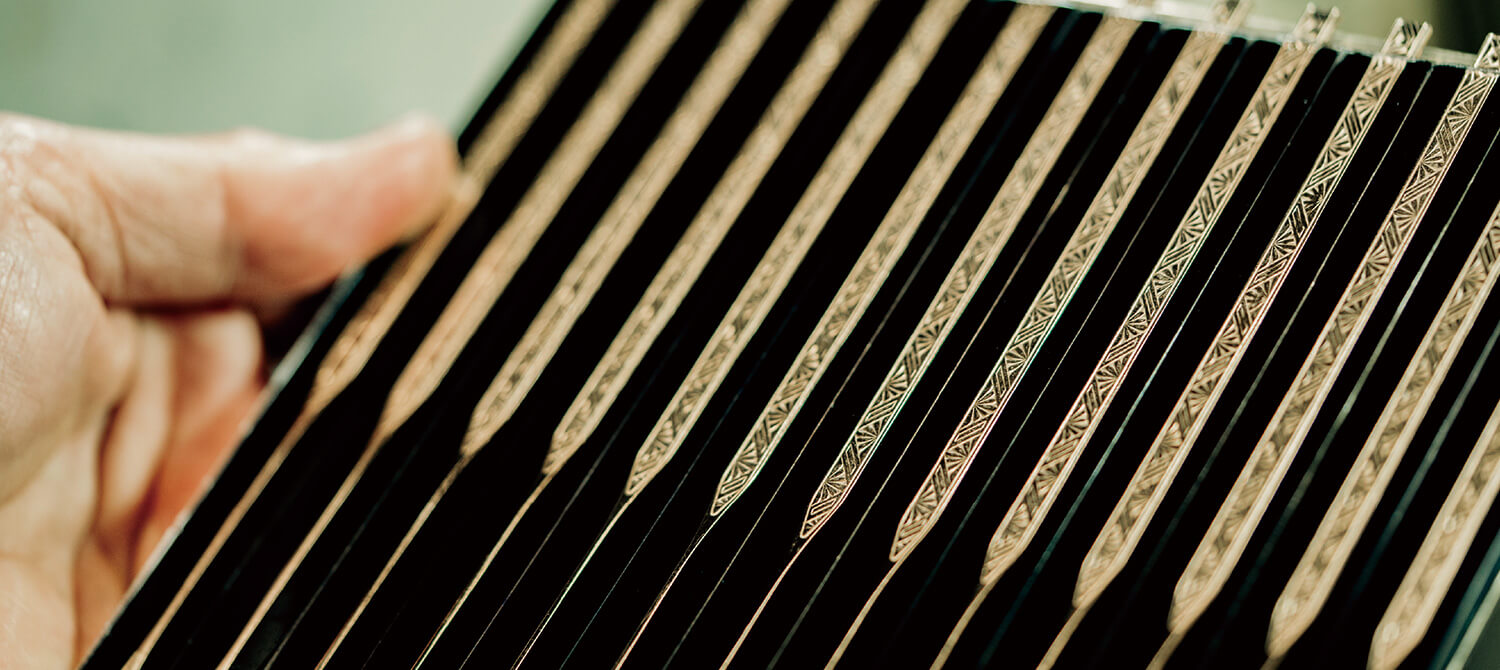 Another careful inspection is done for piece by piece in detail to check if bubble that occasionally gushed during heat treatment and could not be removed properly.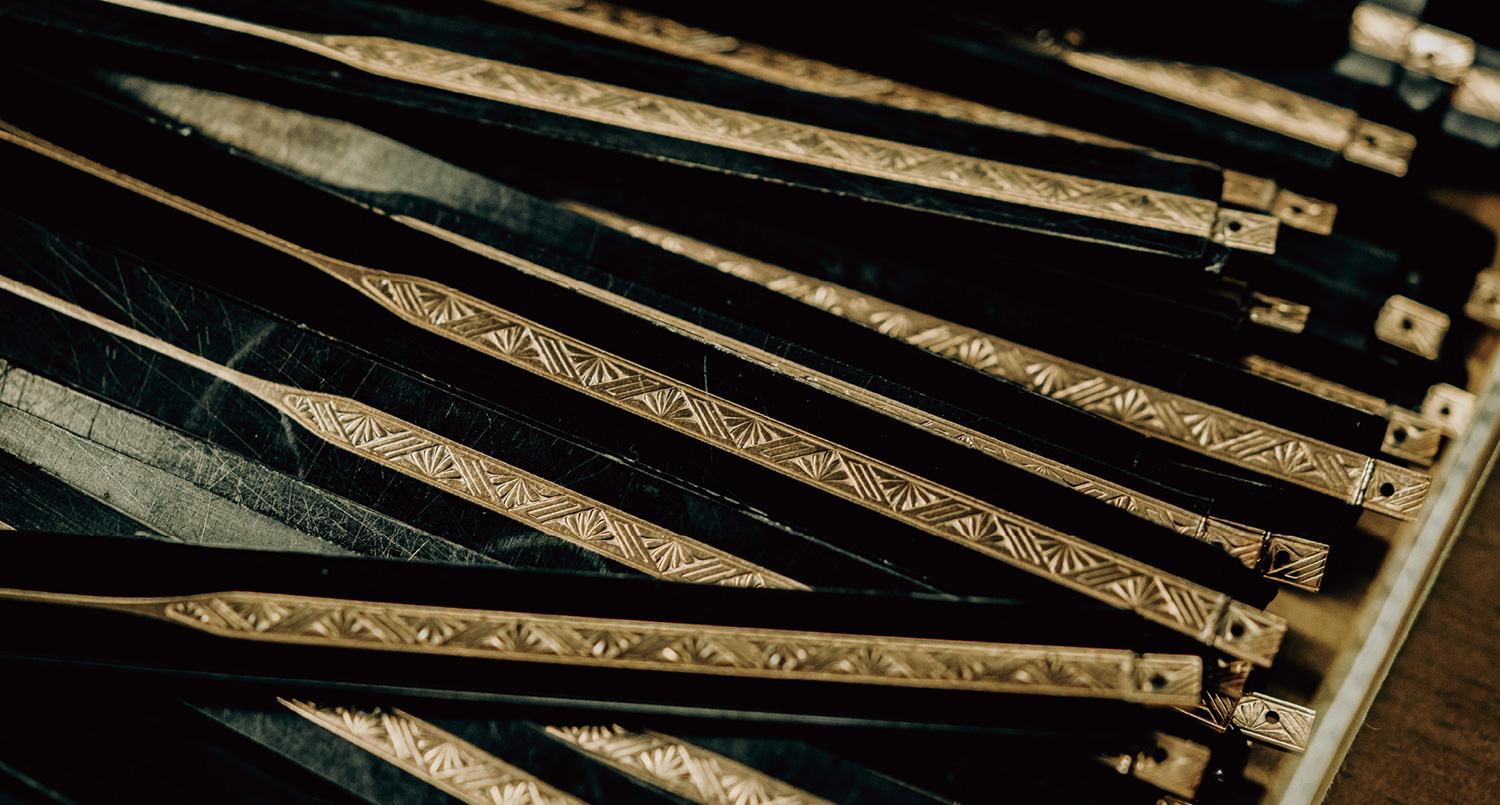 The steel plates, set between plastic bars, are removed one by one, Craftsman uses the dedicated tool that he made only for this process.
Forming temple shape
by carving plastic bar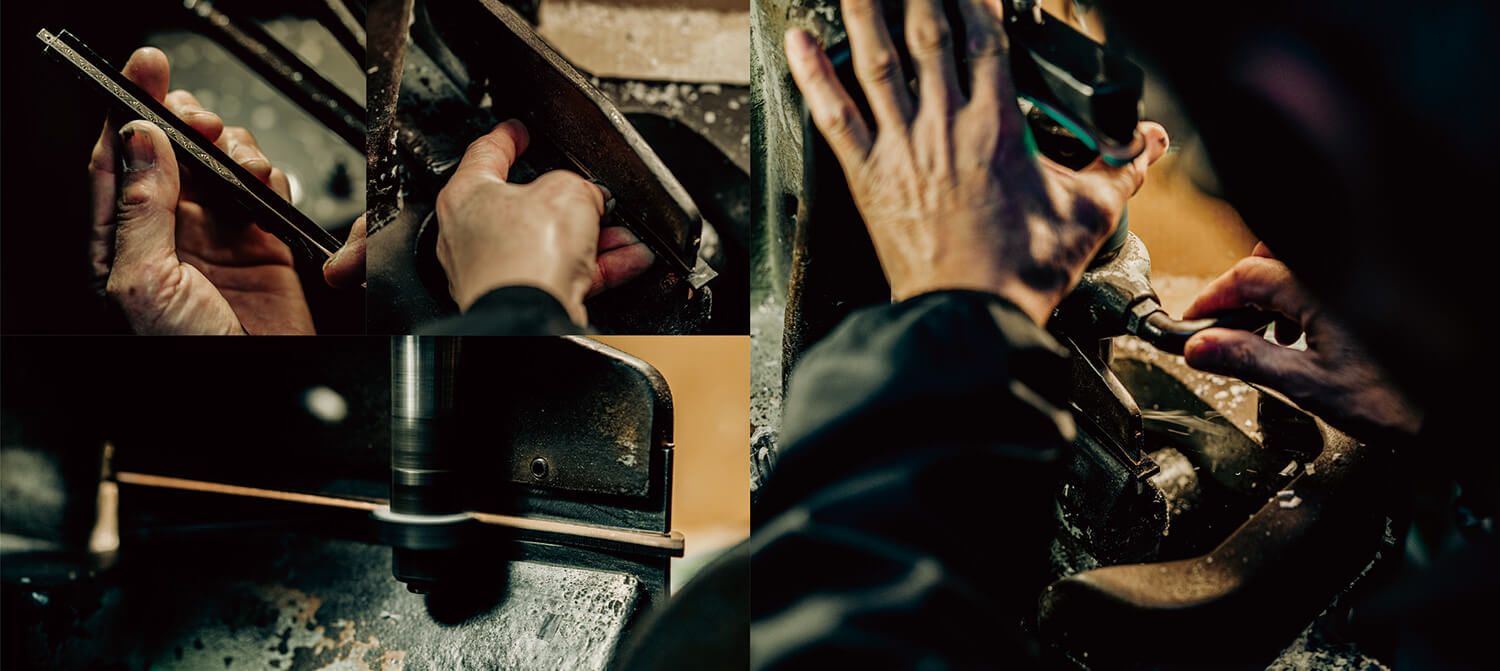 The strip shaped plastic bar is machined into the temple shape to make it comfortable on ears. There are limited numbers of craftsmen who can handle this old school machine that is rarely used, while productivity is required in these days.
Polishing temple to
make it shine, and finishing by caulking pins
to install hinge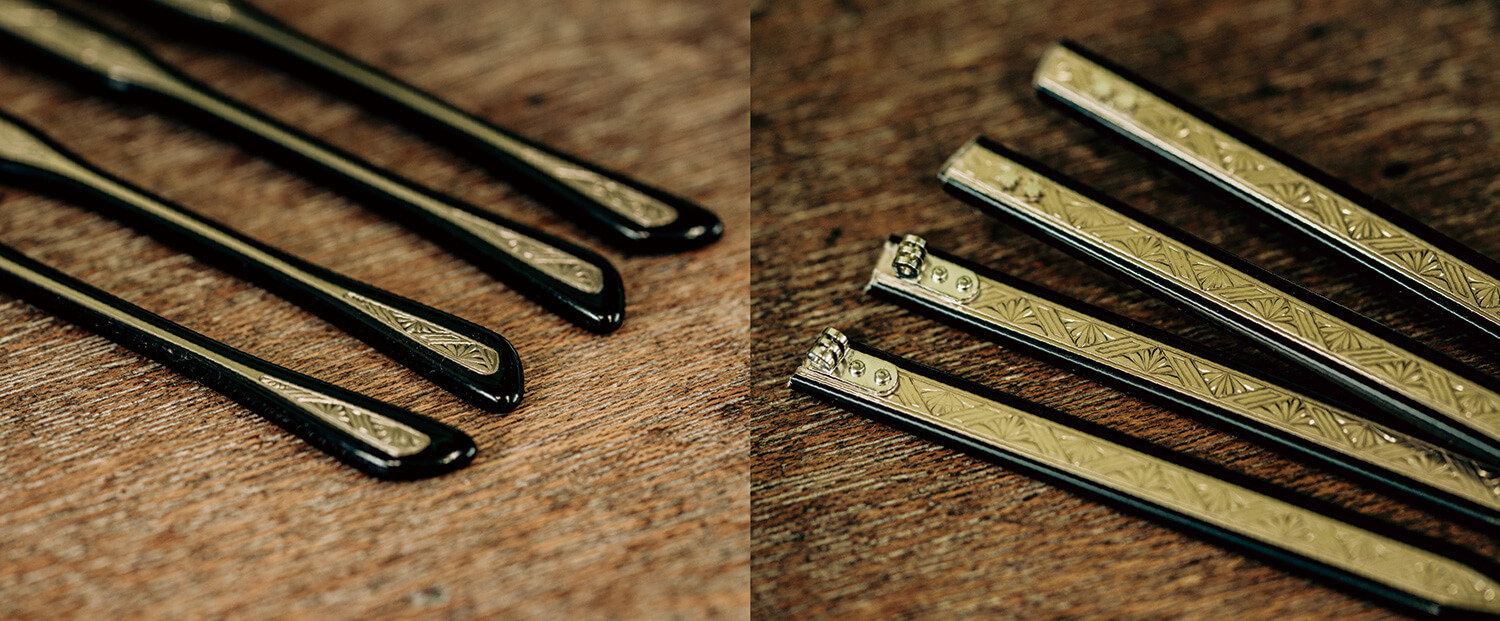 Once the temple shape is formed, it is set in tumbling barrel, called "Gara", and polished to make the surface glossy. Afterwards, the finish is completed by calking pins of hinges. Finished temple with gorgeous engraving patterns projected makes the whole frame exist beautifully constructed work.
CRAFTSMAN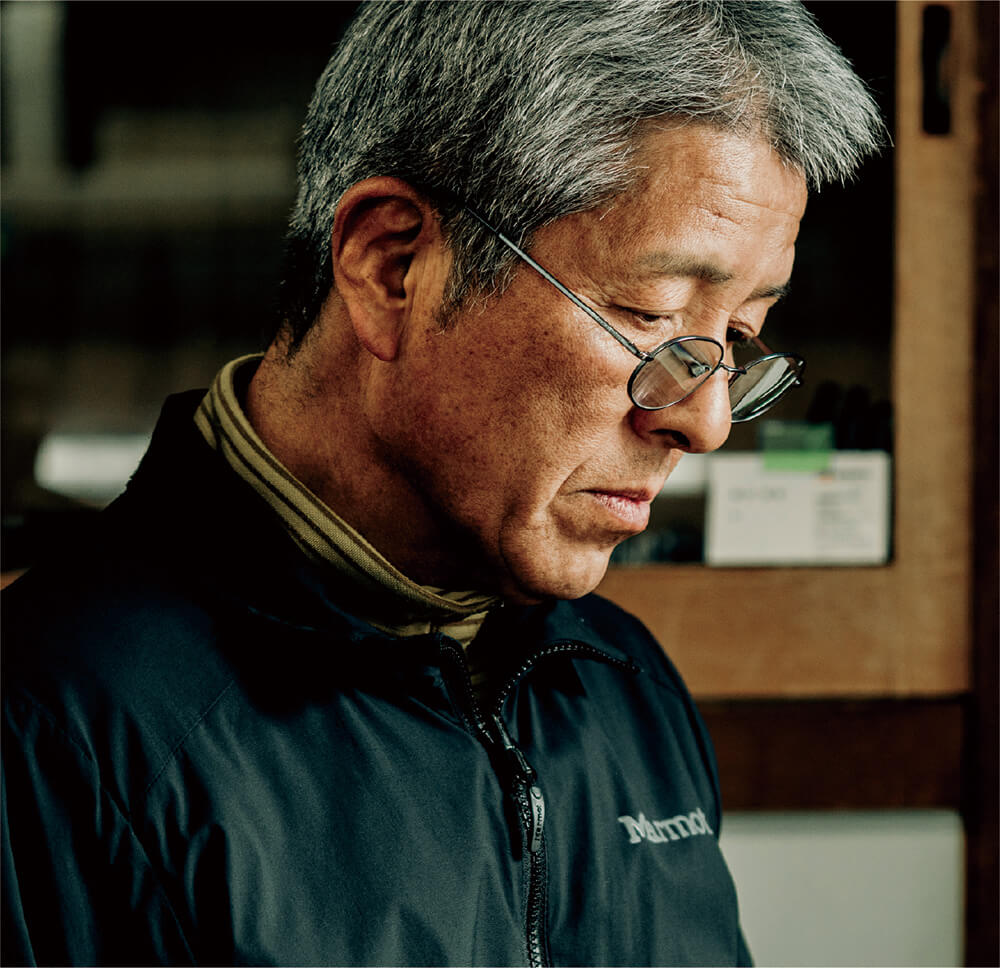 Shinbari craftsman
Mutsumi Fujita
Born in Minami Echizen, Fukui prefecture in 1947, and moved to Sabae in his childhood, then his father started eyewear workshop. After graduating high school, he started discipline under his father, spending over 50 years operating Fujita Shinbari workshop. He is one and only craftsman who continues to inherit Shinbari skills.
OTHERS

Craftman Edition
"SHINBARI"
Achieving the aspect of one of a kind thing by hand work of Sabae craftsmen.

MOVIE 01:47
The complete production
process of P-501
Here we will introduce the complete process of P-501, which starts from a piece of celluloid.

6 points representing
BJ's persistence
You can find BJ's persistence and attention to detail in many areas other than in our celluloid frames, like P-501.